I couldn't think of a better way to start my blogging saga than by reporting about the one soiree worth attending last night- the Derek Lam shindig at Helen Yi's upscale fashion boutique in Bucktown. The display of clothes and accessories was beautifully arranged in a just-so manner that a discerning eye could not help but helplessly fawn over. The drinks were smooth, the hors d'oeuvres delectable and the arrangement of flowers elegant and subtle. The stars, however, were the crowd. The boutique was glittering with the Beautiful and the devastatingly chic. From the boutique's eponymous owner, to the sales reps, the patrons, and the Derek Lam team. I actually had the pleasure of chatting with Mr. Lam himself and I must say he proved himself to be quite the charmer! Sweet, engaging, relaxed and approachable, he willingly posed for the camera and at the end of the night even complemented me on my Dries Van Noten tie. Coming from the man whose fashion has been worn by everyone's favourite Diva Extraordinaire Nina Garcia of Project Runway, I must say his experience was nothing short of humbling.

Fashion designer Derek Lam (center), together with boutique owner Helen Yi (second from left), and the Derek Lam NYC team.

(From left to right): Art, of the Vattit Itthi fashion duo; the ever-fashionable Som, and the wonderful James.
The fashion was just the first part of the evening, nonetheless. After the event, I decided to treat myself to a fancy little meal in honor of my recent bday. After walking around Lakeview for about 20 minutes, I decided to go to X/O up on Halsted. There are two things that I love about X/O: the tapas-style dining and the conversations to eavesdrop on. See, the place is fantastic for a romantic first date, or a romantic anniversary celebration, and if you're sitting by yourself like I was, you could be lucky enough to experience at least one of those vicariously through your surroundings.
The food was excellent: the seared ahi tuna with scoops of watermelon and honeydew was accompanied by a couple on their first date sitting to my left who were discussing their preferred sexual positions. The sauteed shitaake mushrooms with fennel arrived in time for the said couple's decision to spend the night together. The New York strip steak perfectly coincided with the lesbian couple behind me whose expletive-ridden, booze-driven tragic attempt at reconciliation was putting the juice in my steak to shame. And my dessert- a fluffy chocolate mousse cake sitting amid a shallow pool of sugary sin ran parallel to the same couple's cathartic sob-fest resolution. Whomever said "Two is company, three is a crowd" clearly did not hear of "Two is company, but one is enough."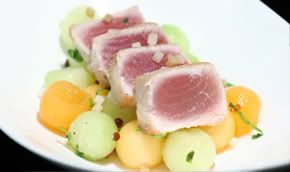 The Seared ahi Tuna

The Ribeye